Sunrise Dental is a full-service, state-of-the-art, family dental practice located in Round Rock, Texas. Using the latest, cutting edge technology, we provide our patients with the most advanced and effective treatments available to meet their preventative, restorative and cosmetic dental needs. Sunrise Dental's expertise ranges from pediatric to geriatric dentistry.
Excellent care is our goal with every patient, and we strive to treat every patient like family. We offer a comprehensive range of services, from regular check-ups and professional cleanings to x-rays, veneers, sealants, fillings, crowns and bridges, implants, dentures, oral surgery and cosmetic dentistry.
Dr. Scott's gentle touch and calming presence if often enough to calm the nerves of patients, However, if that is not sufficient, Sunrise Dental offers laughing gas and oral sedation dentistry.
Should a dental emergency occur, we make every effort to see and care for you as soon as possible.
Please call today to set up an appointment to join the Sunrise Dental family today.
We take pride in our craft and in the care that we provide each of our clients. And these kind words from our clients are a fantastic reward for a job well done. If you would like to share your positive experience with us, and the world, please leave a review at one of these sites: facebook or Yelp.
Dr. Scott and her team were absolutely wonderful with my 5 yr old son. He loved it too! And the funny thing is he had no idea he received two shots in his mouth. All of the staff was so kind and supportive. They were very sweet to my 3 year old grand daughter. Dr. Scott is one of the best dentist I have ever gone to. My husband's crown had a smile chip in it and Dr. Scott was so careful not to put it on for fears it would then have problems she sent it back to be re-made. I deeply appreciate her. Staff is great! Prices are very affordable. Overall best dental experience I have had. No pain at any time. I LOVE LOVE LOVE Dr Scott! She is amazing ! She makes you feel at ease and explains everything she is doing. My daughter's first visit to the dentist was great thanks to the staff. Everyone was so nice and welcoming. She was getting the procedure done while her dentist sang her twinkle twinkle little star, even I was soothed!!! I love this place and I'm thankful for everyone here they are great! Estoy muy contenta por la atencion que me han dado en la clinica y ademas por la amabilidad con que la Dra.Natalie V. Scott explica el procedimiento. Muchas gracias !!! Dr. Scott and her staff made sure I was comfortable throughout the procedure. My dental work was done efficiently and without delay. Also, my kids, ages 7 and 3, were treated wonderfully. Mi visita a la clinica me encanto, son muy amables todo el equipo y me encanto la doctora Natalie Scott. I have dreaded going to the dentist for years now, I finally decided to go. I was amazed on how great my experience was. Everyone was friendly, helpful and professional. Dr Scott was so cool. She is the epitome of how you would want your Dentist to be. I look forward to going back for my 6month check up and well defiantly will not put it off. I told all my friends, family and coworkers.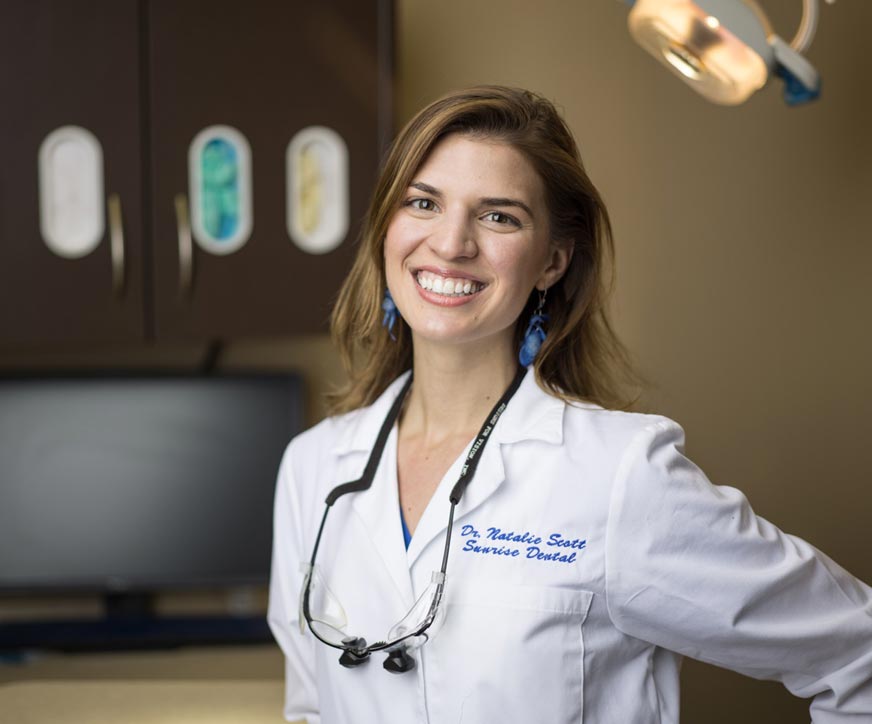 Dr. Scott is originally from Houston, Texas. Dr. Scott obtained her D.D.S. (Doctor of Dental Surgery) degree from The University of Texas Health Science Center in San Antonio in 2008. During dental school, she excelled in oral surgery, cosmetic and pediatric dentistry. After graduation, Dr. Scott moved to Austin. She fell in love shortly afterwards and got married to her husband, Steven. They live in Round Rock, where Steven is from. After working as an associate for about 6 years, she finally decided it was time to open Sunrise Dental. Dentistry is her passion, and she is excited to see her dental office vision come to life at Sunrise Dental. When Dr. Scott is not at Sunrise Dental, she enjoys anything that gets her adrenalin going. Whether it be sky diving, white water rafting, or glacier climbing, she is always up for an adventure. Most of all, she loves sand volleyball, traveling, and her family. Take a look around Sunrise Dental for some pictures of her and her family travels.